Ted Sparks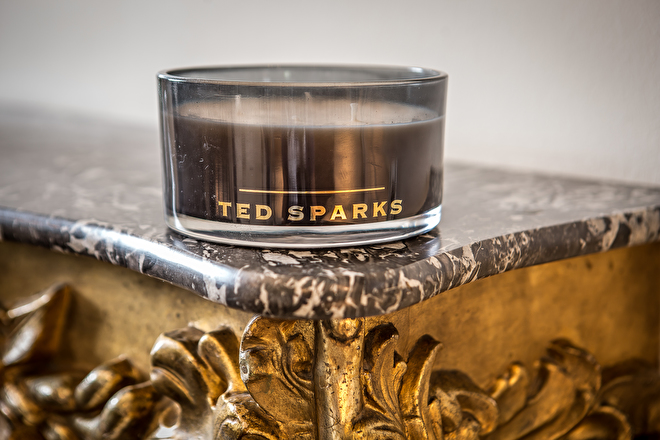 TED SPARKS is een avonturier die dol is op het leven. Met zijn trips over de hele wereld ontmoette hij verschillende culturen, elk deel op de wereld heeft zijn eigen geur en stijl. Er is zoveel te ontdekken.
De kleine dingen in het leven zijn belangrijk voor Mr. SPARKS; Een goed glas whiskey, een sigaar of bij een knetterend vuurtje met zijn geliefden om zich heen. Geïnspireerd door de culturen die hij heeft ontmoet, heeft TED SPARKS een collectie met heerlijk geurende en stijlvolle kaarsen en diffusers ontworpen.
TED SPARKS selecteert de ingrediënten voor zijn kaarsen en diffusers met uiterste precisie. Hij maakt hierbij alleen gebruik van de beste geuren die beschikbaar zijn om een geliefde collectie te creëren.
GEUREN
De TED SPARKS collectie is verkrijgbaar in de volgende geuren:
White tea & Chamomile - De geur van een vers boeket met kamillebloemen gecombineerd met een vleugje Aloe Vera en het aroma van witte thee.
Orange & Cedarwood - Warm cederhout in combinatie met prikkelende sinaasappel worden in evenwicht gebracht door vanille en jasmijnbloem.
Bamboo & Peony - Een luxe blend van bamboe en poederige pioenroos. Met een accent van groene thee en exotische lelie.
Fig & Honey (Metallic Collection) - Een zoete melange van Marokkaanse vijg en zoete honing. Een rijke geurcombinatie!
Amber & Pepper (Metallic Collection) - Amber voegt zoete, houtachtige noten toe terwijl peper een pittige kick toevoegt aan deze aromatische geur.
Cedarwood & African Flowers (Metallic Collection) - Een verleidelijke fusie van cederhout, samengevoegd met een zacht aromatisch boeket van Afrikaanse bloemen.
Bergamot & Sandalwood - Warm en langdurig ruiken sandelhout, versterkt met zacht activerende geuren van citrus. Jasmijn en vanille balanceren deze geur.
Cinnamon & Sandalwood (kerst special) - Een warm aroma van kruidige kaneel en sandelhout. Met deze geur kun je niet anders dan uitkijken naar herfst en winter.
Blue Spruce & Pine (kerst special) - De geur van een eeuwenoud dennenbos wordt gecreëerd door de noten van Blauwe spar en dennenboom.
BRANDUREN
DEMI - 70 HOURS
MAGNUM - 50 HOURS
DOUBLE MAGNUM - 110 HOURS
BALTAZHAR - 80 HOURS
DIFFUSER - MINIMAAL 3 MAAND
GEBRUIK VAN UW KAARS
Lees onderstaande tips voor het optimaal branden van uw kaars.
Om de levensduur van uw kaars te verlengen is het van belang dat de kaars pas gedoofd wordt wanneer het oppervlak volledig is gesmolten.
Onze kaarsen branden het best wanneer zij minimaal 3 uur achtereenvolgend kunnen branden. Zorg er zeker bij de eerste branden voor dat het oppervlak volledig vloeibaar is voor de kaars gedoofd wordt.
Knip voor elk gebruik de lont af tot 0,5 centimeter boven de was.
Zorg ervoor dat u de kaars niet plaatst in een luchtstroom dit kan ervoor zorgen dat de kaars niet gelijkmatig opbrandt of dat deze gaat walmen.
Reinig regelmatig de binnenkant van het glas om roetvorming te voorkomen.
Doof de kaars wanneer er slechts 1 centimeter was over is. Warmte tegen de onderkant van het glas kan het glas laten barsten.
Plaats de lonten op hun oorspronkelijke plaats voordat de was is uitgehard.
GEBRUIK VAN UW DIFFUSER
Schroef de dop van het diffuser flesje en verwijdert u de plastic stop. Hierna kunt u de dop weer terug plaatsen. Verdeel de fiber sticks over de diffuser. Binnen een paar uur zult u de subtiele geur door de gehele ruimte waarnemen. Voor een minder intense geur kunt u minder sticks in de diffuser plaatsen.
Bron: tedsparks.nl
Aanbieding
Ted Sparks Roomspray Bamboo & Peony
€ 19,95
€ 17,95